Come home to yourself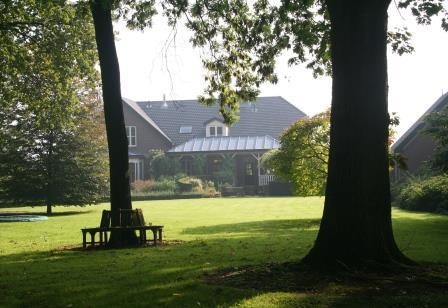 The place
Welcome on the website of The Yogahouse in Twello – home to Clare and Wouter and a place where you are invited to come home to yourself!

This Centre for Mindfulness Yoga and Retreats lies in the Ijssel valley near the historic Hanseatic town of Deventer in the eastern Netherlands. A rural spot where you'll find space. Space for quiet and reflection. Space for meeting – both yourself and others whose paths cross yours here. Whether you attend weekly lessons, join a workshop or come for a retreat, you can leave the daily grind behind for a while, relax and explore what really matters …
Mindfulness Yoga
What's it like to be truly here, now?
Welcome to the Yoga House for weekly yoga and meditation classes. At the Yoga House, Yoga is the cultivation of Mindfulness in stillness and in action. Every class is a meditation in which learning to relax, exploring the possibilities and the limitations of the body with non-judgmental curiosity, and bringing mind and body together in this moment are steps along the way to inner peace. And not just for an hour's class! 'It has a real impact on my daily life,' in one student's words. Read more about Yoga philosophy under … Currently classes are in Dutch and the timetable can be seen at Yogales
If you don't speak Dutch and would like a class in English, get in touch!
Retreat
Turn within, be still…
Retreat means withdrawing, standing still for a moment, refueling, taking some time for yourself, seeking inspiration and new depth in your spiritual life… Welcome at the Yoga House for the kind of retreat that's right for you. For much of the year there is a monthly Stiltedag or Day Retreat, using a range of meditation techniques, including Hatha Yoga and meditative walking, and drawing on different sources of inspiration from East and West. A chance to establish or deepen a meditation practice in a supportive group context. We will also be running regular Yoga-walking weekends, Yoga holidays, silent retreats and thematic day workshops. Look under workshops.